Dès le départ, oghji se posait en alternative du tableau électrique à assembler de zéro avec une approche disruptive de solution « tout en un ».
Plus besoin de sélectionner un calibre de disjoncteur.
Plus besoin d'ajouter un disjoncteur différentiel, un parafoudre, un contacteur heures creuses…
Plus besoin de faire revenir son électricien pour rajouter le module de contrôle, compteur et délesteur connecté.
Car tous ces modules étaient intégrés nativement dans le tableau oghji.
---
Désormais on pourra dire aussi :
Plus besoin de remplacer tout le tableau parce qu'il est sous-dimensionné pour l'extension de la maison.
Plus besoin de sacrifier un placard à l'entrée pour son encombrant tableau électrique.
---
La première version d'oghji se déclinait en nombre de circuits. Le modèle choisi devait donc être dimensionné dès le départ par rapport à la taille de l'installation à équiper.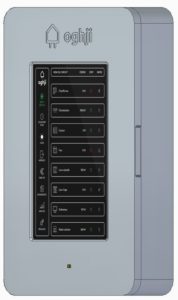 Nous avons construit un prototype que nous avons présenté à des électriciens spécialisés basse tension. Nous voulions qu'oghji soit facile à installer, que ce soit dans le neuf ou en rénovation.
Grâce à cette prise en main et aux retours d'expérience de nos électriciens « cobayes », nous avons validé de nombreux aspects de notre tableau, nous en avons aussi ajusté plusieurs et amélioré l'ergonomie.
Et nous sommes assez fiers du résultat 😊
Oghji devient donc une solution modulaire qui se décline en deux références :
The starter box.
It consists of an 8 circuits power box and a control screen. The screen automatically detects all the network.
An 8 circuits extension kit
Boitiers qui viendront augmenter la capacité de l'installation puisqu'il est maintenant possible de combiner autant de boitiers que nécessaire.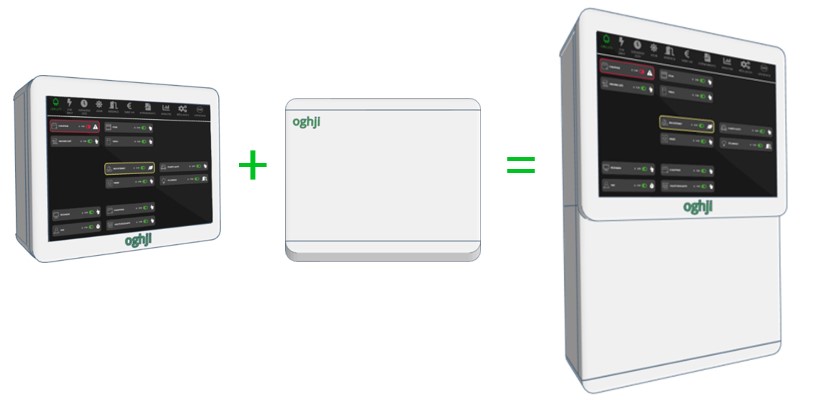 Les extensions viennent donc augmenter le nombre de circuits disponibles laissant à l'écran unique la charge de tous les piloter.
---
Et c'est là que fait son entrée une deuxième amélioration notoire par rapport au prototype initial d'oghji…
l'écran sera déportable !
Il pourra donc être intégré facilement dans un lieu de passage, accessible à tout instant et sans encombrement superflu, tout en communiquant avec le ou les boitiers oghji, dissimulé(s) au plus près de l'installation électrique.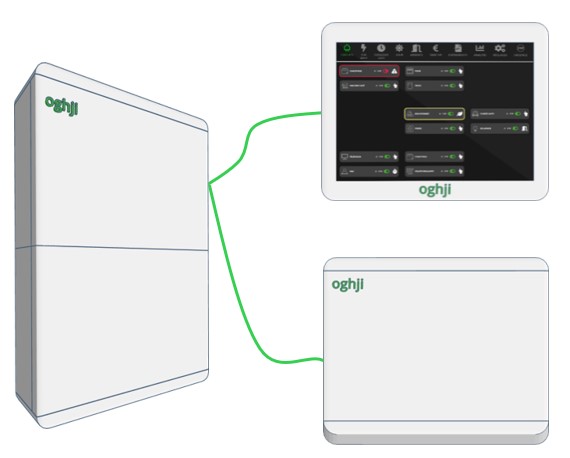 Oghji offre donc une alternative à forte valeur ajoutée fonctionnelle mais aussi esthétique et pratique, à travers une interface moderne, bien plus adaptée à notre génération digitale et connectée.
---